Typography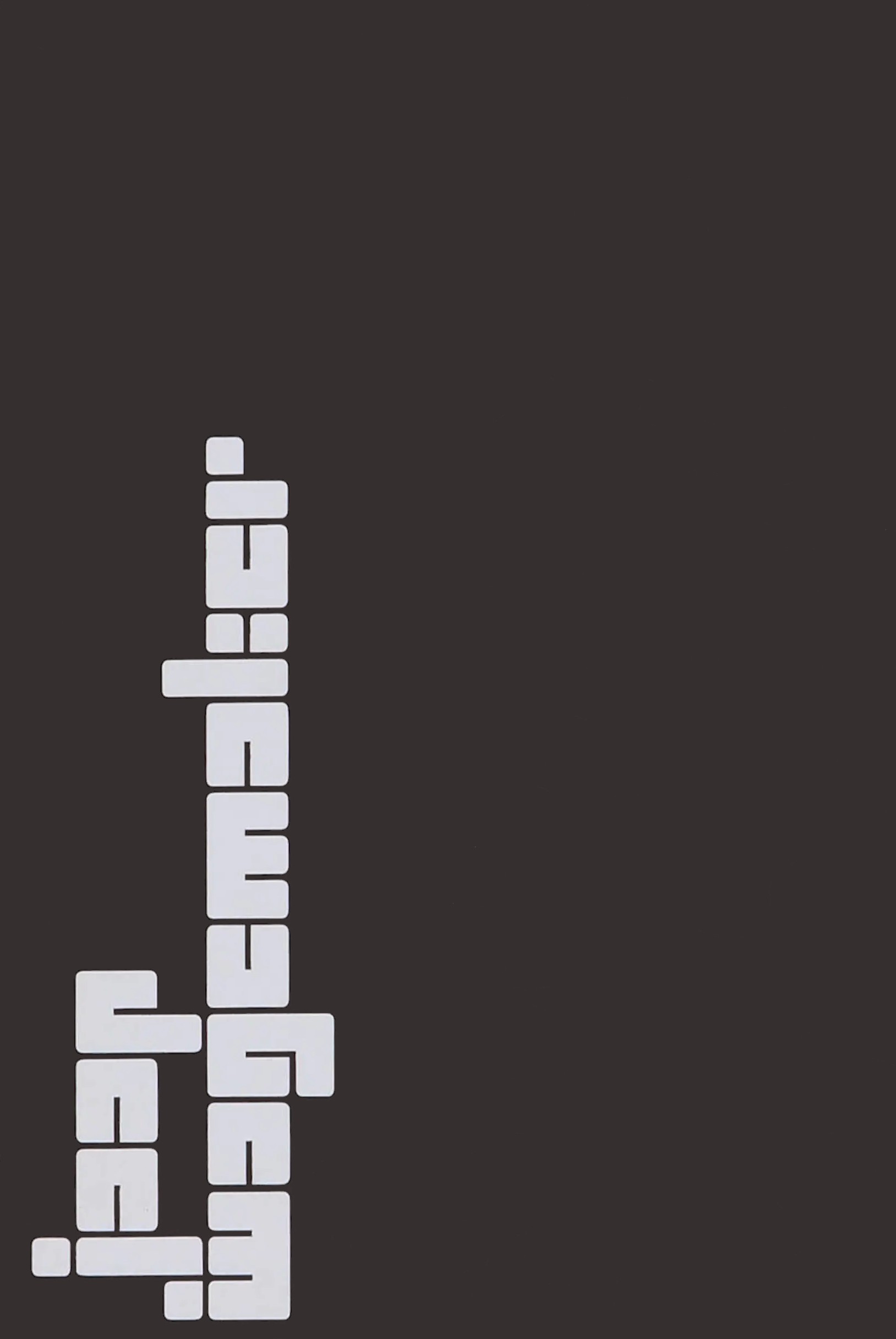 Jaap Wagemaker Stedelijk Museum, catalogue 1967
Architype Crouwel is a collection of typefaces created in collaboration with Wim Crouwel, following his agreement with The Foundry, in 1996, to create digital fonts from his experimental alphabets. Crouwel's most recognized work was for the Van Abbe and Stedelijk museums [1954 –72] where he established his reputation for radical, grid-based design.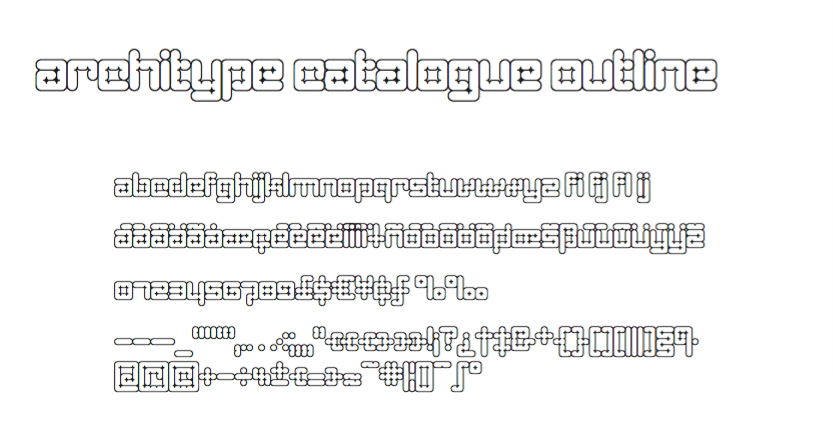 Architype Catalogue originates from Wim Crouwel's Stedelijk Museum exhibition catalogue for sculptor Claes Oldenburg, 1970. The cover's soft 'padded' letterforms evoke the artist's work. Oldenburg was so taken with the design, that he asked Crouwel to complete the alphabet.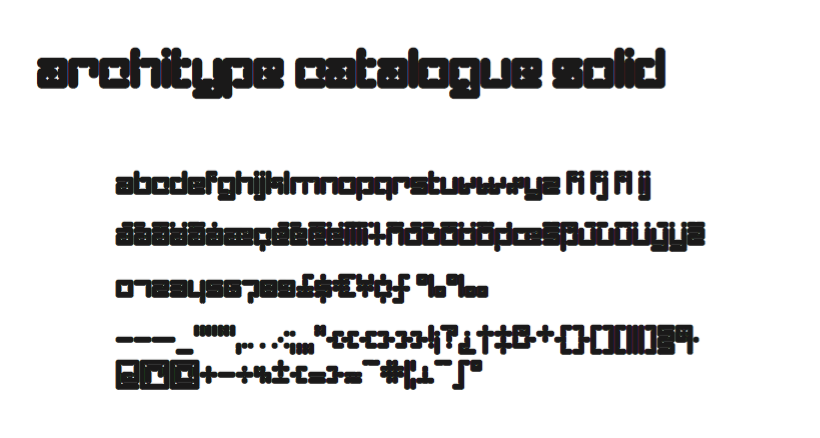 Architype Catalogue's soft 'padded' letterforms were originally created by Wim Crouwel for the Stedelijk museum's 1970 exhibition of sculptor Claes Oldenburg. Crouwel said, 'When you look at Oldenburg's work, with all those soft objects, it gets into your system, so you try to integrate that feeling in the design.
---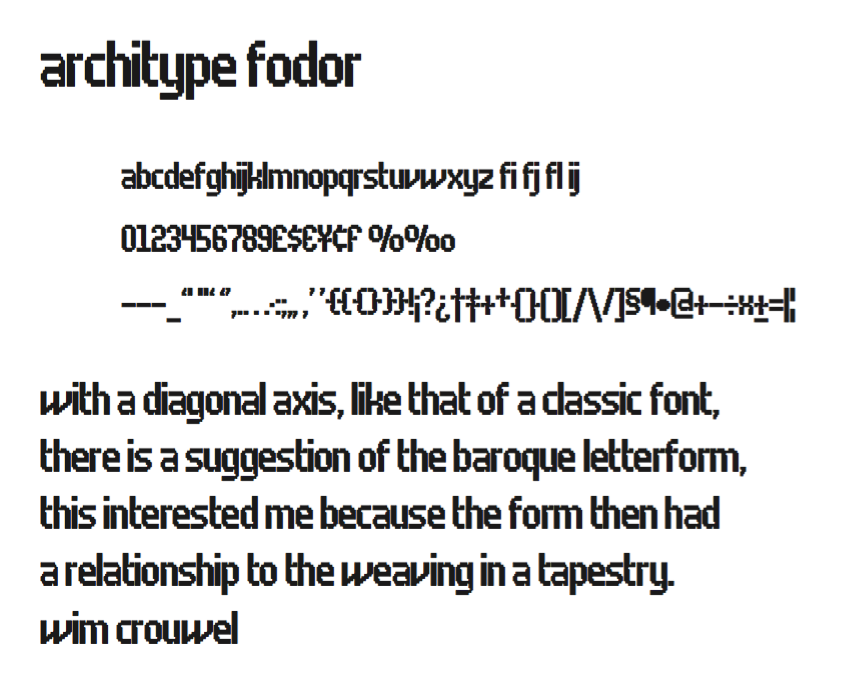 The Fodor letterforms were created for the magazine published by Museum Fodor, Amsterdam. To save cost it was designed to be 'typeset' on their own electric typewriter. The resulting monospaced effect was combined with a background of orange overlaid with pink dots that provided a page grid to align the text to. The title set on the dot matrix formed the 'system' for construction of the 'digital effect' letterforms.
---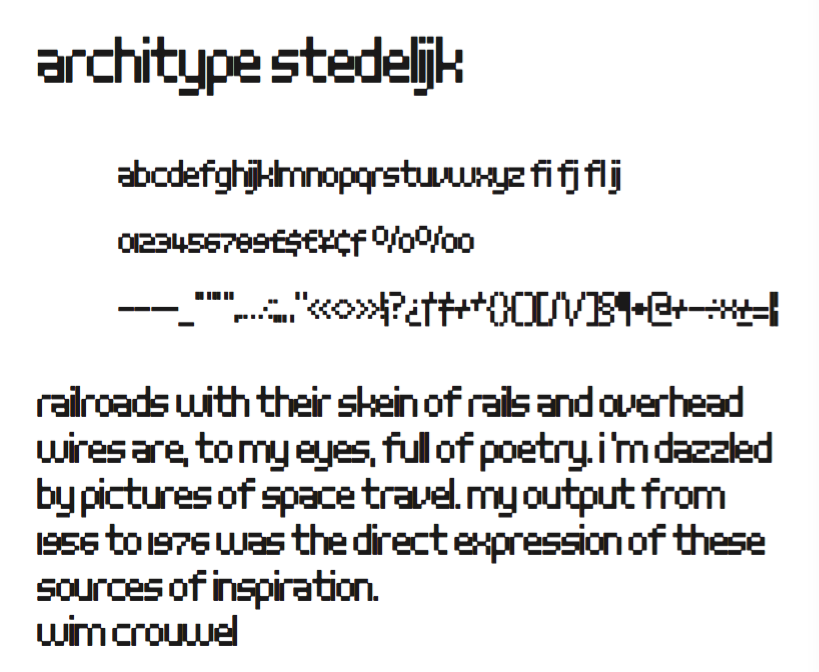 Stedelijk first appeared in the seminal Vormgevers poster, commissioned by the Stedelijk Museum, Amsterdam in 1968. Crouwel created a rigid grid system across the poster of 57 vertical by 41 horizontal lines, also forming the basis for the construction of the letterforms. Although all hand drawn, the resulting typeface had a machine-made appearance. This striking black and white poster with its visible grid became one of Crouwel's most iconic designs.
---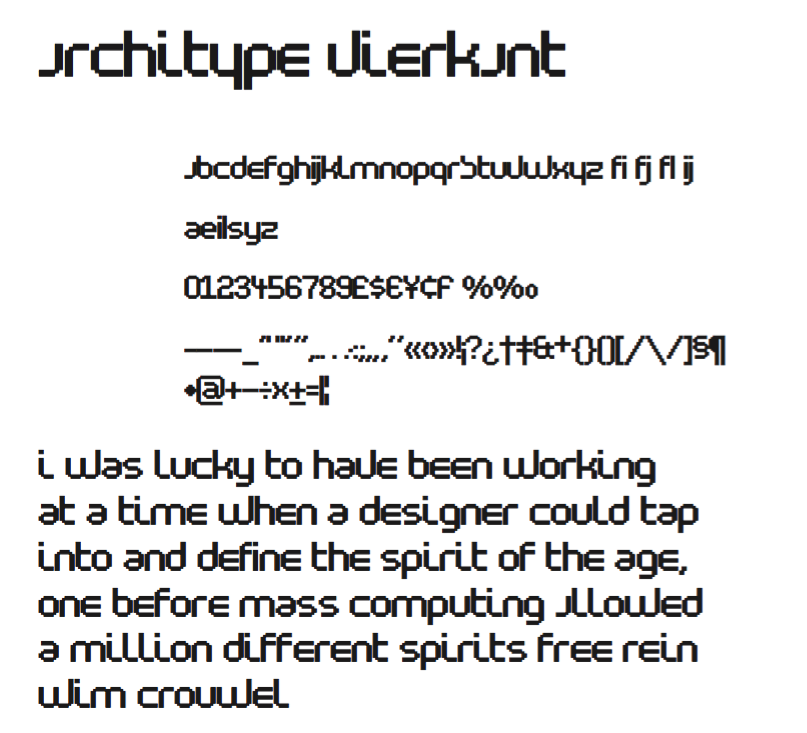 Architype Vierkant was developed from the few letterforms that Crouwel created for an opening spread in a 1972 Drupa catalogue, on the theme 'typo vision international' – this single reference showed an interesting interplay of the experimental ideas underpinning his controversial 'new alphabet' and Fodor
---
.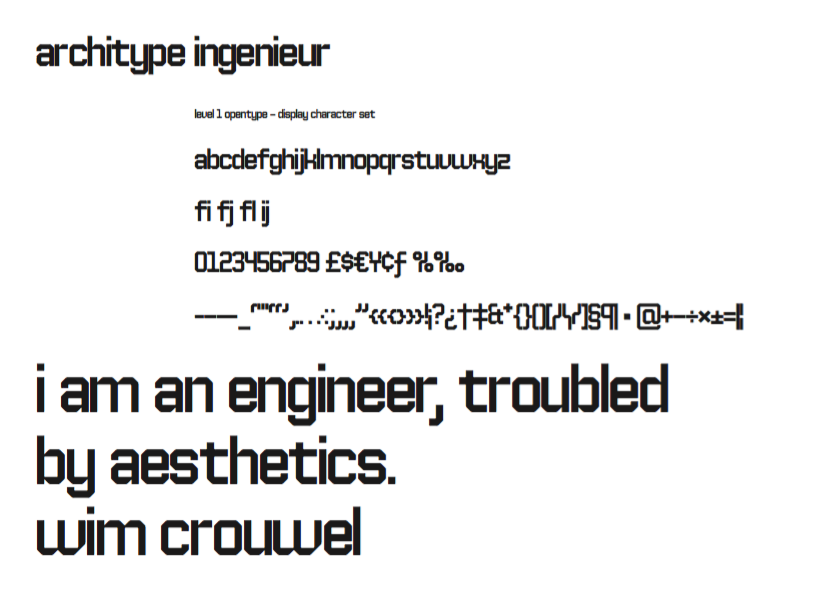 Architype Ingenieur was inspired by Wim Crouwel's late 1950s exhibition catalogues and posters, for which he had created a few geometrically constructed, simplified letterforms. In the 1960 Venice Biennale, Dutch entry poster, he drew grid-based letters with 45-degree angles for 'olanda', the style influenced by his boyhood fascination with naval lettering. A subtle variation appeared in the Stedelijk Museum catalogue for painter Jean Brusselmans. Several dot matrix versions followed. The themes and systems in these early letterforms are encapsulated in this new four weight family.
---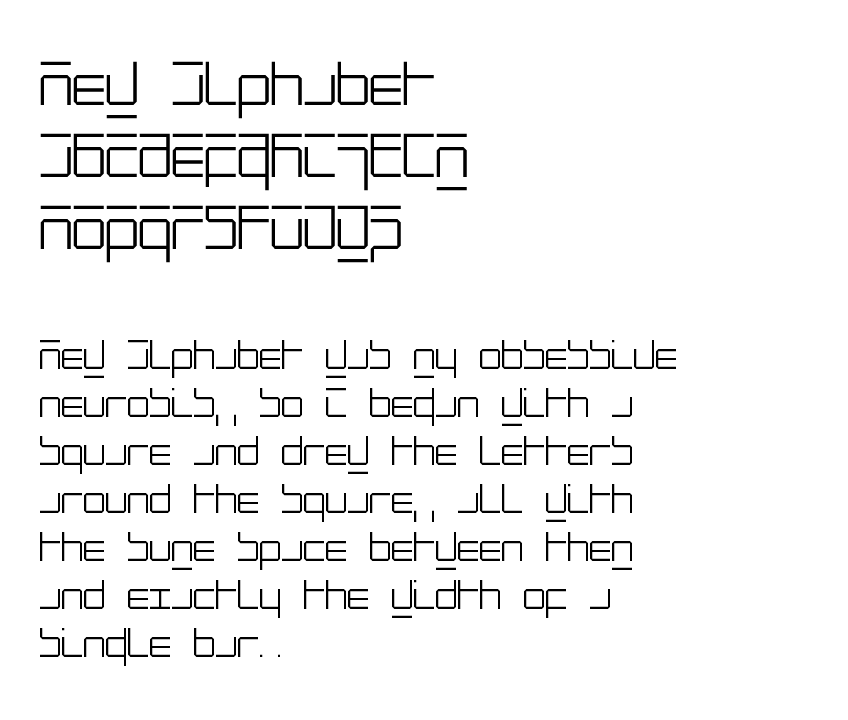 New Alphabet was created as a four weight family in close collaboration with Wim Crouwel. His response in the late 1960s to the first device for electronic typesetting was a radical experiment designed to follow the underlying dot-matrix system. With his strong interest in grids, Crouwel worked within the constraints of existing electronic technology, to produce characters that worked with the mechanical means that conveyed them. His original New Alphabet experiments have now been further developed by The Foundry into a typeface family that also includes the dot version.
---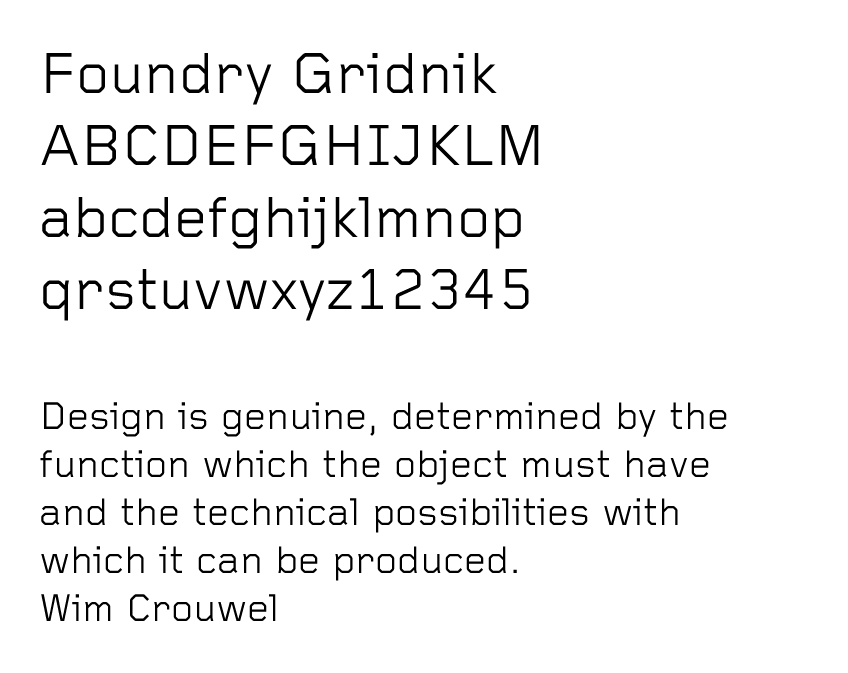 Foundry Gridnik was developed from the single weight monospaced 'typewriter' face, originally created by Crouwel in the 1960s. Crouwel's devotion to grids and systems led to his affectionate nickname of 'Mr Gridnik', and this inspired the new typeface family name. Foundry Gridnik's distinct geometric design has been described as 'the thinking man's Courier'. Crouwel said, 'I am a functionalist troubled by aesthetics', and although Gridnik is based on logic, rationality and strict adherence to the grid, it also has a human dimension that sets it apart.